Today, listening to your favorite songs is much simpler thanks to advances in smartphones and applications to listen to music without internet . These
Today, listening to your favorite songs is much simpler thanks to advances in smartphones and applications to listen to music without internet . These are great for those times when you run out of data or don't have access to a Wi-Fi network.
If you've lost your connection, don't worry: today, we present you the best apps to listen to free music offline and you can enjoy your favorite artists and playlists whenever you want. You will find all the tools that will give you life in 2021 in this post.
In fact, if you visit us regularly, surely you have already read other posts about music apps . We guarantee that we bring you only the most up-to-date on the mobile market .
Without further ado, we present you the best music applications without WiFi . You will love them!
Best app to listen to music for FREE without internet: don't pay anything!
If you are wondering how to listen to music offline on your mobile, you have to know that there are a large number of apps that allow you to do it without paying anything . Do you want to know the best alternatives? Read on and take note!
Jango Radio
It is the online website to listen to the number one radio in the United States. You just have to choose the artist to play or the musical genre you want to enjoy and hit play. You can choose pop, rock, classical, reggae, the one that is in fashion, for decades and much more.
You can also enjoy Jango Radio for mobile phones – for both iPhone and Android. Much more comfortable than entering through the browser. Of course, the characteristics are the same as those of the web: a personalized free music service . It's probably the best free program in this regard: no limits, no ads, and it lets you save your preferences when creating an account – free of course.
Can I use it offline?  The way to use Jango offline is through another website. This is Free Audio Recorder Online , an online music recorder that does not require you to install anything on your computer or mobile. You just have to do the following:
Once on the web, click on "Start Recording".

Open the song you are interested in by Jango —the web version, not the app—, but don't hit play yet.

Go

back to Apowersoft and press "Record."

Wait a couple of seconds and start playing the song in question.

When you're done, hit "Stop."

In "Audio input" you can choose the format in which you want your song to listen to it offline whenever you want.
If, on the other hand, you want to use the app, you have it available for Android and iPhone. We leave you the links:
Mixcloud
With MixCloud you can discover new talents and songs that are not played on the radio. We refer to remixes of DJs , both international and those of your neighborhood. Of course, you put the filters of what you want to hear. Likewise, you can choose radio stations.
You have many options once you create your free account. For more information, you can take a look at their website . To listen to their songs offline, you have to use the method that we teach you in the previous app (Jango) . The best DJs and radio presenters on your mobile.
Free Music
Free Music es otra de las aplicaciones para escuchar música sin internet mejor valoradas por los usuarios. En este caso, estamos ante una alternativa exclusiva de Android, gratuita y con millones de pistas musicales para disfrutar. Se trata de una app con la que puedes reproducir offline toda la música de YouTube y crear tus propias playlists con las canciones y géneros que más te gusten.
Its interface is modern and intuitive, and it has multitasking to control the songs while you use other applications on your mobile. Among other options, you can configure the app to play music randomly or repeat a song or list. In short, regardless of your musical taste, with Free Music you have the possibility to find the song you want and listen to it offline without investing a single penny .
CloudBeats: offline music
Can't find a song on Spotify or Apple Music, but you have it in the memory of your mobile or computer? Then you may be interested in this app. CloudBeats is a virtual cloud where you can create and organize your own music library to listen to your favorite tracks offline.
This tool is compatible with the vast majority of well-known cloud storage services , such as Dropbox, One Drive, Box, Google Drive and OwnCloud, among many others. In this way, all the songs that you upload to these platforms will be able to listen to them in CloudBeats if you link your user account with the app.
Although the application plays the files online by default, it has an option to download them and listen to the music offline . One of the things we like the most about this app is that it not only supports MP3, but also M4A and FLAC.
Also, CloudBeats has an auto-shutdown feature that makes it shut itself off before you go to sleep. You can download it on Android and iOS and it is 100% free . Take control of your music!
Trebel music
If you are looking for a free offline music app where you don't have to subscribe or enter your personal data , TREBEL is the ideal alternative for you. The intention of the developers of this tool is to offer you free music content without having to use MP3 converters or complicate your life with other alternatives that can compromise your online security.
So, with TREBEL you have access to a wide music library that you can listen to in its entirety without mobile data or Wi-Fi thanks to its unlimited download option . But this is not all. TREBEL also allows you to synchronize your own music , create playlists to your liking and interact with other users on its social network. In addition, it consumes less battery than other similar apps. Download the application on iOS or Android.
Microsoft Groove: all offline and online music on your PC
Update 2021 : The Groove app was purchased by Microsoft and is now called Microsoft Groove. It is available only for Windows Phone. Although some of its characteristics have changed, it is still useful for listening to music without internet. The Android and iOS versions were retired in December 2018. In both cases, the files will continue to be available on OneDrive.
This app went from being one of the best applications to listen to music without internet for free on iPhone to be available on Windows Phone. It is very easy to use. Once you start playing your favorite songs on your phone, Groove studies your musical tastes and makes different playlists available to you.
It has other functions, such as the use of smart gestures to lower or increase the volume while driving. With just one click you can share everything through your favorite social networks. On the other hand, iOS and Android users who want to listen to the music stored in Groove offline have three options :
Download the music from the One Drive application to the PC.

Play it through the One Drive application itself.

Play the music on Google Play Music or iTunes Match.
Without a doubt, the application to listen to music without Internet on PC that you cannot miss.
Lark player
Another very versatile tool is Lark Player, an app to listen to music without internet with which you can replace your mobile player and, in this way, enjoy extra features to make your music experience much more satisfactory.
The first thing you have to know about Lark Player is its function to listen to music offline . With this app you can enjoy all the tracks and files that you store on your mobile or SD card. It is compatible with the main audio formats , such as MP3, AC3, WMA and FLAC, among many others.
On the other hand, it has a floating player so you can perform other tasks while listening to music and you don't have to go in and out to change songs or perform other actions in the app. Also, with it you can watch YouTube music videos and share them with your friends and discover the latest hits of the moment.
Lark Player is available for Android and iOS and is 100% free . It will only occupy 10MB of your smartphone!
Omnia Music Player
Listening to music without internet and no type of advertising is possible with the Omnia player, an exclusive app for Android that stands out for its modern interface and high resolution audio playback . With Omnia you have the possibility to manage your entire music collection and access it from a single place to listen to it without Wi-Fi whenever and wherever you want.
The application has a wide variety of features that make it unique, for example:
Automatic synchronization of album images and artist photos.

Ten-band equalizer.

Chromecast support, Google voice commands, and Android Auto.

Support for song lyrics.
This app is compatible with MP3 and the most used audio formats —APE, AAC, OPUS, OGG… – and has a very efficient search system so that you can find the song or album you are looking for in a matter of seconds. Of course, the Omnia music player is free , although you have the option to pay for access to other features. Try it and you won't regret it!
Pulsar Music Player
Una alternativa a la app anterior es Pulsar Music Player, uno de los reproductores de música sin internet más atractivos para Android. Cuenta con todo lo necesario para que disfrutes de toda tu música sin interrupciones y de forma gratuita. Esta aplicación te permite escuchar música offline sin anuncios, a diferencia de otras herramientas parecidas.
But that is not all. It offers multiple functionalities, such as pauseless playback, crossfade between songs, adjustment of the playback speed, sleep timer and scrobbling with Last.fm so that you receive personalized recommendations. Another feature is that you can organize all your music  by folders and classify them according to album, artist or genre.
This way, you can easily find it. You also have the option of syncing the player with Chromecast or Android Auto and uploading files in the most common audio formats. In short, if you want a multimedia center for all your music, Pulsar Music Player is a tempting bet.
TOP applications to listen to music without Wi-Fi on Android and iOS
Although an app to listen to music without internet for free may be enough for you, you may be interested in a tool with a more extensive catalog. This is the case of music streaming applications, which include an offline option so you can play your music without depending on a connection. Next, the TOPs of the current market!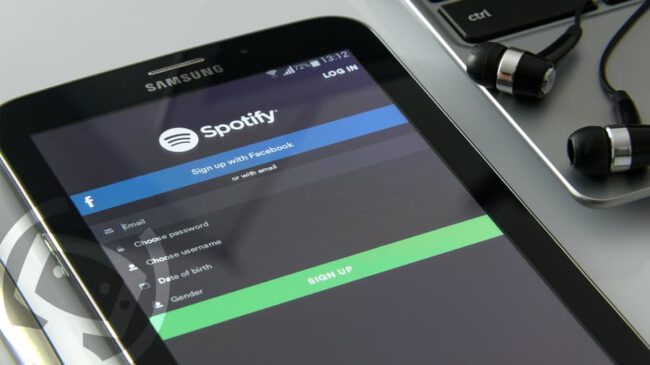 Spotify Premium: the best option to listen to songs offline
Who does not know Spotify? This app has notably improved its performance over the years. Currently, it offers great facilities to users when listening to music lists . For a small price per month (€ 9.99), you can listen to songs offline in those moments when you do not have internet access.
Also, you have the option of accessing your music lists from any device with a network connection. Another positive aspect is that with the Premium version you don't have to see ads. Advertising is over . If you are a music lover and can afford this small monthly fee, this is one of the best applications for its ease of use and wide repertoire.
Deezer Music
This application developed by the French company Deezer SA has managed to be a fierce competitor to other services such as Spotify in recent years. It boasts one of the most complete streaming music libraries – up to 40 million songs – in addition to reaching 180 countries and having 16 million users.
It works with the well-known freemium method . That is, it offers two types of services : a free service with advertising and a Premium service free of ads with which you can enjoy a greater number of functionalities. If you do not have access to the network and want to listen to your playlists offline , you have to subscribe to the Premium.
That is, for only € 9.99 per month . Nothing you cannot afford if you are unable to live without music. Among other advantages of the Premium service is the ability to skip songs without limit and play them in your car using CarPlay or Android Auto, as well as higher audio quality. The best of all? You have 30 days to try it totally free .
Google Play Music
Google Play Music is a great application to play songs or radio stations and enjoy the playlists it offers. Your music is stored in the cloud , so it won't take up space on your device's memory and you can access it even without Wi-Fi or data for free.
The application is free to listen to music , but it has the Premium option with which the songs are unlimited. With this plan you can create your personalized radio , go from song to radio without limits and have recommendations based on your musical tastes. In this way, you can discover new music! It has no ads and gives you the option to buy songs from the app itself.
Napster: the best app to listen to music on iPhone
Napster is the free music app par excellence for the iPhone – although now you can also find it on Android. Of course, you can use it on your iPad and iPod Touch . The application has more than 25 million songs of all kinds of genres for you to choose and listen to what you want when you want it. Also, you can use it completely offline for € 9.95 per month.
If you pay the subscription, you will not see ads or have a download limit and you can put the music player in full screen, one of the most aesthetically attractive options on the market. The transmission and download of audio tracks is in high speed and quality. Without a doubt, one of the essential apps to play music.
Soundcloud
Es una aplicación para escuchar música gratis en Android e iOS que te permite buscar música por nombre del artista o canción. ¡Una de nuestras favoritas! Si no sabes qué escoger, ve lo que está más de moda o busca por género musical, una opción perfecta para conocer nuevos talentos musicales.
Puedes escuchar toda la música en streaming con tu conexión Wi-Fi o datos móviles, o bien completamente offline. Además, tiene esa característica de "red social", por lo que puedes tener amigos o followers y compartir con ellos tus canciones favoritas. También, puedes compartir tu música en Facebook u otras redes sociales.
Of course, the offline functionality is available only through the Go (€ 7.99 / month) and Go + (€ 12.99 / month) subscriptions . Join the SoundCloud community now and enjoy music anywhere.
Pandora
Pandora Radio is part of the Music Genome Project®, so it adjusts to your personal tastes and evolves with you as they change over time. This musical application allows you to :
Create your

lists or stations customized

by genres, artists or songs.

Find the

perfect song for your mood

. Are you depressed? Have you had a really good day?

Use it on your mobile, but also on your tablet, Smart TV or computer.

Multiple devices

with the same account.
We recommend using it when you have a Wi-Fi connection, otherwise your mobile data will fly. To use it without spending megabytes, you have to purchase the Pandora Plus version – available for smartphones, but not for tablets.
Amazon Music
Without a doubt, Amazon has been going strong with its Music streaming service, a firm commitment from the company that aims to compete face to face with giants such as Spotify and Apple Music. Without going any further, the platform has a dizzying number of more than 60 million songs . Of course, your app also allows you to listen to music without internet.
To enjoy this feature, you have the possibility to choose between two plans: Prime Music , with which you can enjoy 2 million songs —it is included in the Prime subscription—; or Amazon Music Unlimited , which gives you access to the full catalog and has an exclusive annual price for Prime members. In both cases, you can download albums, playlists, and songs to listen to offline.
Are you interested in the Unlimited plan? Enjoy a 3-month free trial and stay up-to-date with the latest music releases anywhere, anytime. Download the app on your Android or iPhone!
Apple Music
Now it is the turn of the music service of the Cupertino company, Apple Music, an app to listen to music offline with a catalog of  more than 60 million songs  that you can take wherever you want. How does it work? You choose the song, album or playlist that interests you and add it to the library.
Once you do this, you have to click on the download button – which you will see as a cloud with an arrow. From here, the songs will be stored in the Downloaded Music folder . Of course, anything you play from this location will consume no data.
Apple Music is ad-free and has a free three-month trial period . After this period, you can choose a student plan (€ 4.99 / month), individual (€ 9.99 / month) or family (€ 14.99 / month). Of course, it is available for iOS, but also for Android.
Free music without internet: everything you need to know
What is the best application to listen to music without internet?
Choosing the best app to listen to music offline is not an easy task . In this post we have seen several options, all of them highly valued by users and with a large number of features for you to manage and administer all your music.
In this sense, one of the most recommended is Spotify , due to the variety of its songs and its ease of use. It is certainly a paid app. However, with the Premium service you can play songs offline unlimitedly and listen to all the tracks in high definition audio.
What if I don't want to pay? In this case, you can find great music in a radio app that works offline , like Jango and Pandora . Also, you can use a free music application without internet that gives you the option of uploading files from your mobile or PC and managing your own library, such as CloudBeats and Lark Player .
How to listen to music without data?
Apart from the apps that we propose in this post, you have the option of downloading music and listening to it without having to have an internet connection. Depending on whether you are an Android or iOS user, you have to use applications to download free music on Android or an app to download free music on iPhone .
In both cases, the music will be stored in the internal memory of your device and you will be able to listen to it even if you do not have a Wi-Fi network available or mobile data. To do this, use a streaming platform – such as Amazon Music and Deezer – or a tool that has royalty-free music.
How to listen to YouTube music without internet?
As you should already know, YouTube does not allow you to listen to music offline for free , but it is possible to do so with the YouTube Premium subscription. You can use it for free for just one month. After that period, you have to pay € 11.99 per month, a price that can be inconvenient for many users.
Now, did you know that you can download music from YouTube through different apps and websites? These are tools in which you copy the URL of the video to obtain the audio in MP3 format. A very easy process that gives you the opportunity to have your favorite music in a matter of seconds to listen to it offline.
If you don't have enough with the audio and you also want the image , opt for an app to download YouTube videos on iPhone .
How to listen to music without internet on PC?
If mobile telephony is not your thing, you may prefer a music application without Wi-Fi for your computer . If you are a Windows user, Microsoft Groove may be good for you , a program with which you can listen offline to all the music you have stored on your computer.
Another alternative is Spotify PC version . This tool offers you the same functionalities, songs and playlists of the application without the need for an internet connection. What if I have a Mac? You can use Spotify or other programs, such as iTunes , that give you the option of listening to the music that you have saved on your computer.
Similarly, you can use Apple Music , the company's music streaming service that allows you to download all the tracks you want offline — through a subscription.
How to listen to music without YouTube on PC?
Without a doubt, YouTube is the most used platform to listen to music from PC. However, there are many other websites and programs that have a wide catalog of 100% free music content . If you are looking for alternatives to YouTube 2021 , you have to know that sites like DailyMotion and Vimeo host a large number of videos.
These websites give you the possibility to listen to free music without internet that you will not find on YouTube. On the other hand, you can use programs like SnapTube to download YouTube videos in MP3 format to your computer. Another option is ProTube , which allows you to play all the content from the Google video platform in the background .
How does Spotify work without internet?
The first requirement to use Spotify offline is to have a Premium subscription . If this is your case, you have to follow a few simple steps to configure this option. First, go to the app menu and go to Playback .
Then, tap on the Offline mode option to activate it. This will allow you to listen to all the music you have downloaded in the app without having to connect to a Wi-Fi network or to your data. Now, find the music you want to save. To do this, you can add songs to a playlist and then download it in the My Library section .
With this option enabled you can download an entire album or a playlist. For more information, we recommend that you take a look at how to download music from Spotify .
Can I listen to the radio offline?
Yes, you can listen to the radio offline . On both Android and iOS, you can find radio apps without Internet to listen to your favorite stations – be they musical or other – without depending on a Wi-Fi network or your mobile data.
These apps often offer  on-demand podcasts and shows that you can download to listen to whenever you want. For example, the Podcast & Radio Addict app has an option to download the broadcasts of all Spanish radios and more than 25,000 foreign ones. As you can see, you will not run out of options.
They say that music appeases the beasts. We hope that you can enjoy your favorite artists without having to connect to the network , totally offline, whether you are an Android or iOS user. We have seen some online players so that you have all the options. Some tools use both systems.
Of course, if you know of any other iPhone or Android app that is not on the list, please let us know! We wait for you in the comments.