There is not always time to follow everything that is happening in the Football rounds and any championships that are running. After all, many of the
There is not always time to follow everything that is happening in the Football rounds and any championships that are running. After all, many of the matches take place simultaneously. That's why free apps to see football scores are so important. Whether you're an incorrigible football fan or an aspiring sports trader, these apps will help you keep track of what's happening in each match, as well as show you the results of each match. All football scores apps shown here are free, and it's up to you to try them out to find out which one is the best.
Check it out below!
1. OneFootball
One of the most used free apps to view football scores, OneFootball brings you one of the largest collections of football information. In addition to the results, the app also brings the main news in this market, informing you about important transfers between clubs, whether national or international. Throughout the matches, you receive notifications about important events of the teams you are following, such as goals, fouls and penalties. In addition to being reminded when matches will start. OneFootball also provides the leaderboards of major tournaments around the world. The app is available on Android and iPhone. onefootball screenshot, one of the most popular free football scores app.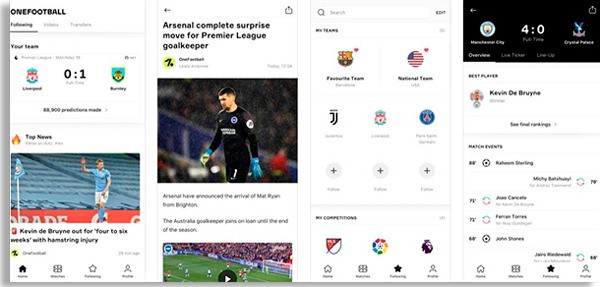 2. FlashScore
This app is not just limited to football, bringing results from matches in other sports such as basketball, volleyball and tennis. According to the app's page, FlashScore tracks and updates its users in around 6,000 different competitions. In addition, it also brings notifications to let you know results about the teams you mark as favorites. FlashScore also makes up for the lack of a narrator by bringing live commentary by text. Another type of information included in the monitoring of matches is the lineup, updated in real time. Download FlashScore on Android or iPhone.
3. SofaScore
Embracing over 21 sports in addition to football, SofaScore is also one of the most highly rated apps of its kind. Within football, its scope is also huge. It is even possible to see results from the series C of Brasileirão, for example. As well as the results of state championships. It is also one of the few that can be installed on a smart watch, such as the Apple Watch. Regardless of the device you are using, you can configure SofaScore to update you live on your team's matches, sending notifications whenever something important happens. Check out SofaScore on Google Play or the App Store.
4. ge
The official application of Rede Globo's sports sector, ge is a complement to your schedule, allowing you to follow what is happening in other matches, in addition to the one you are already watching. The app has videos showing the main moves of matches, as well as reports that were aired on television. The Globo Esporte app also brings news in writing, in addition to allowing you to follow the leaderboards and schedule with the game schedule. It is also possible to receive notifications about what is going on in the world of the ball or be reminded of the start of matches. Download ge on your Android or iPhone. ge screen, ex sports globe

5. UOL Score
UOL also has free apps to see football results, competing with apps from large portals such as the aforementioned ge. In it, you can follow matches in real time. It is also possible to follow the analysis of matches made by the columnists of the platform, having access to more opinionated content, in addition to information about the results. It is possible to know the important events of the games in real time, as well as the changes in the score. The UOL Scoreboard allows you to favorite up to 10 national and international teams, receiving notifications whenever they play, as well as important events on and off the field. Download UOL Scoreboard on your Android or iPhone.
Free Apps to View Football Results: What Are Your Favorites? With these options, we believe you will have at hand all the information you need about the matches of your favorite clubs, players and competitions. Which one is your favorite? Leave your opinion in the comments below!