What crosses your mind when you hear people talking about paperless offices? Sounds like science fiction, right. The fact is that we can't go complete
What crosses your mind when you hear people talking about paperless offices? Sounds like science fiction, right. The fact is that we can't go completely paperless yet, but some huge steps have been made to achieve that.
The majority of us have witnessed the decline of paper usage in offices, our desks are becoming less cluttered and we rely on digital documents more than before. The most used digital document type is a PDF, standing for the portable document file. The whole idea of a PDF is that it can be shared on every operating system and any device. It doesn't matter if you are using Windows, Mac or your Smartphone, the document will look the same.
One drawback of using PDFs is that they can't be easily edited. When you're working with multiple PDF documents daily, you often need to make some changes to them. It would be very inconvenient for you if you would need to write a new document every time all over again because you can't edit the old one. There are some software and online tools that can help you with those tasks by converting PDF to more suitable file type, but there are also specially dedicated solutions for your mobile phone and people who like to work on the go.
Also read: List of Android Secret Codes 2019
The developers that know a thing or two about PDFs, like Cometdocs, are dedicated to improving the way people handle their digital documents. They are making converters tools and apps that are helping millions of users all over the world to properly manage their documents.
One of their most popular apps is PDF to Word Converter. As the name says, it can convert any PDF, scanned or regular, to an editable Word document. When you think about it, that is a neat solution and the possibility to do that from your phone sounds even better.
How To Convert Open Office Doc To Word
Apps Features
Unlimited number of files for conversion
This app is free to download and free to use. You have no limits on the number of conversions, but you would need to convert one document at the time. Also, it doesn't matter how big your file is, meaning you can convert even the whole book or manual that has over 100 pages. This is an amazing feature and the time and effort that you save by using this app are enormous.
Admirable Conversion Quality
PDF to Word is using one of the best converting servers enabling you to convert complex PDF with ease. The quality of the conversion is in most cases exactly similar to the original file and better the quality, the less time you spend correcting errors. While there is still no app or tool that can do the perfect conversions every time, PDF to Word converter is on a good path of becoming such an app.
OCR Technology – Conversion of Scanned PDF
Optical Character Recognition Technology, abbreviated OCR, has become standard in converter and cam scanning apps. It enables scanned PDFs to be converted as well, apart from original PDFs. You can take a picture of any document with text, as long as you save it as a PDF format, the OCR technology will recognize the character from the text and will convert them to editable Word document.
Linked with Cloud Services
The Cloud Services allow us to store our files in the cloud instead of storing them in our device's memory. Immediate access to files from Google Drive, Onedrive, Dropbox and Box directly from the app is a great example of how mobile apps are becoming easier to use rather than some robust software or online tools. It makes document manipulation a lot easier when you can just sign in to your Google Drive and select the file you want to convert, instead of downloading the file first and then uploading it to the app.
Also read: How to Root LG X power2 and install TWRP custom recovery
*NEW* Document Scanner
The recent update brought highly anticipated feature to the app. Now you can use a powerful built-in document scanner to scan your files and convert them to editable MS Word documents without ever needing to leave the app. To get the best possible result we recommend scanning your document on a flat surface with good lighting and without any visible background.
To find out more about this app and how to use it, please follow our detailed step-by-step tutorial below.
Also read: How To Download JW Player Videos
How to Convert PDF using PDF to Word Converter App
First, you need to download the app, so head to the Play Store, type "PDF to Word Converter" and the app should be the first result.
Once you install the app, you will see an uncluttered interface that offers a few information. You will only have two options to add a new file for the conversion and to see the old files that had been converted before. Since this was the first time we used the app we had a screen like this.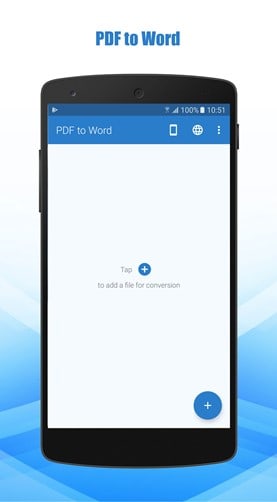 The first step selecting the file for conversion. There are three options, to upload the file from the device, to upload the file from DropBox, Google Drive, Onedrive and other cloud services or to use a document scanner feature.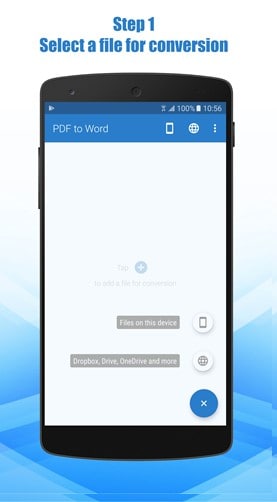 After selecting the file for conversion, the upload will begin. It takes a couple of seconds for the file to upload, depending on the size of the file and the Internet connection. Then you can close the app and simply continue using your phone like you did before because the conversion isn't performed on your phone, but on the conversion server, so your device's memory and battery aren't used in the process.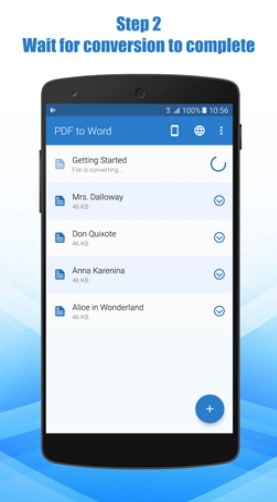 The conversion time varies, depending on the size and complexity of the PDF. In the end, you will get a Word document that looks like the original PDF, with identical pictures, text and tables. The next step is to simply open the file and edit it further using MS Word app on your phone.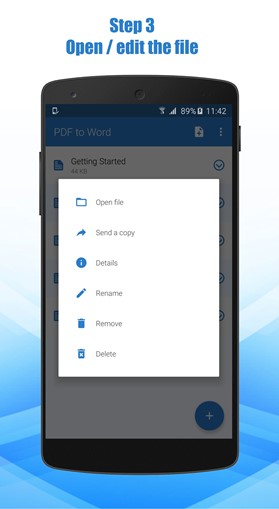 And that is how you convert PDF to Word on your smartphone. If you find this app useful you can download it from Play Store.
The app is also available in the App Store.
Also read: Best Earbuds Under $50 You Can Buy In 2019
Conclusion
When dealing with PDFs we face difficulties in terms of editing them. People have a need for good and reliable tools to help them overcome these problems and PDF to Word Converter is the right app to use. It can convert any file for free with excellent conversion quality and most importantly you can do all that from your phone on the go.