Tablets are one of the most popular gadgets today. Their ability and performance that close and even much better than standard PC, is the reason why m
Tablets are one of the most popular gadgets today. Their ability and performance that close and even much better than standard PC, is the reason why many people love this gadget. More than that, you can carry it around, as this is a portable gadget.
That means, whenever you need to work something out, you will have a tool with the powerful performance in your hand. Mostly, people use tablets for browsing the internet anytime they want. But, with the performance it has, you also can do many other things, such as watching a movie, playing a game and even for designing purpose.
However, there are also many tablet products that still don't have the standard feature of PC, which is a USB port. So, for you who are looking for new tablets, we recommend these Best Tablets With USB Ports for you. You will be able to do many things with them, as they have one of best specification and performance.
Lenovo Tab 4, 8″ Android Tablet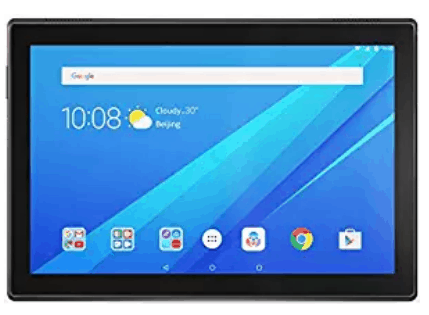 The design is actually pretty simple. It doesn't have too much accent, which makes it beautiful as it is. The placement of the power button and volume are within your finger reach. So, it adds more comfort when you use it. Overall, it is an okay design. In fact, Rajalaptop named it one of best android tablets that have USB ports.
The feature is the most important here. Lenovo has packed up some of the great features in this tablet. The first one is the multimedia feature. 8 inches screen with a dual-stereo speaker that face to the front will give you the real experience like when you watch a movie in the theatre. The screen also can produce HD quality image, which is quite satisfying, even though it would be better if it can produce a 4K image.
The core is quite satisfying. Using 64-bit Quad-core Snapdragon processor with 1.4GHz speed and 2 GB RAM, this table can produce really fast and smooth performance. Plus, it has 20 hours battery life, which will help you to enjoy the entertainment as long as you want.
Overall, this is a good product. However, there are some complaints from the user, where they have a problem with SD card. Therefore, you need to be careful when you want to use your SD card on this tablet.
Dragon Touch X10 10.6 inch Android Tablet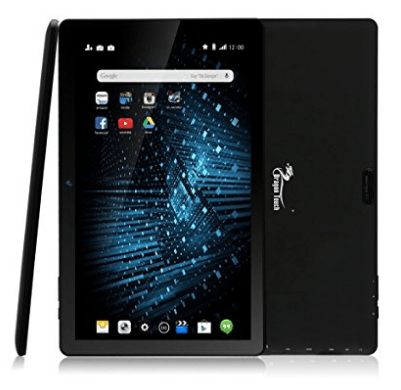 Dragon Touch chose a really good design for this product. The slick and elegant design create a really great appearance for this tablet. It won't give you any shame when you bring it anywhere. The flaw is only the frame. This part is too big, which make the 10.6 inches screen looks smaller. But, if we see it as the part where we can hold when we use this tablet, this big frame is a good design.
The screen uses SmartColor Technology. With high pixel resolution (1366×768), the image that the screen can produce is really clear. More than that, the 178-degree view angle makes the movie that you more comfortable when you watch a movie on it. The screen also has 10 points multi-touch technology. This is a great feature for playing game or designing.
For the core specification, we can say that this tablet has really good hardware installed in it. The Octa-Core CPU 8X Cortex A7 2.0 GHz and PowerVR SGX5444 GPU will give you really fast and smooth performance. You can do multi-tasking job, playing a game, watching a video and many more without a problem. Of course, there is also USB port in this gadget. This is a complete and powerful product with few flaws.
10" Windows 10 Tablet by Fusion5 U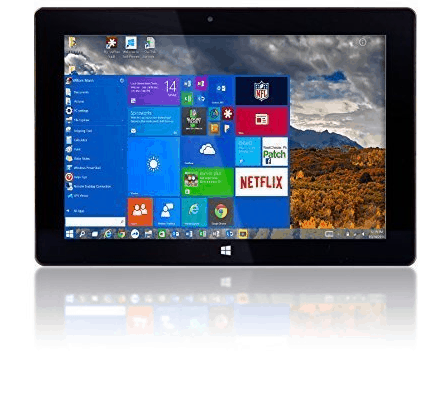 Classic maybe is the right word to describe this tablet appearance. The metal material that Microsoft used to cover the entire edge of the tablet, is the main reason why we choose that word. However, the front side looks more modern, with minimalist style design. The frame around its 10 inches screen has the right size, which makes it more comfortable to hold.
Now, for the feature, we can say that you will get a great feature from it. You will get complete Windows 10 package installed in it. So, this is a great choice, if you are Windows user.
The storage is really big, for a tablet. You will get 32 GB of storage inside, plus SD card if you want to add more. Unfortunately, the core specification isn't quite satisfying for this tablet class. It only uses 1.83 GHz Athlon 2650e processor and 2GB RAM.
Both of them can work really well. But, it's not as fast as the same class tablet as this Fusion5 that use higher core specification. It also uses onboard GPU, which can't be used for a high graphics game. But, the 10 inches screen is indeed big enough for multimedia needs. Basically, this is an okay product for you who don't mind with its medium specification.
Microsoft Surface Pro (Intel Core M, 4GB RAM, 128GB) – Newest Version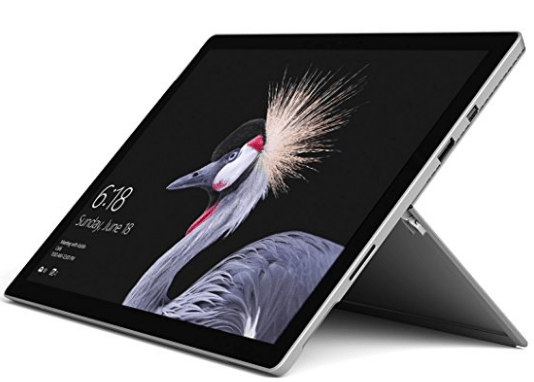 When we talk about design, this tablet can be considered to be the best among other three that mentioned above. The cool and minimalist style make you want to use this tablet more and more. All button and ports are also located on the easy to reach place. Then, there is also the standing holder on the back side, which makes you easily use the screen.
Microsoft also uses really good quality hardware inside. It uses Intel Core M Processor and 4 GB of RAM. Both of them will make this product run way faster than you can imagine. The storage is also really huge. You will get 128 GB space to save anything, from the document file, movie to photos.
With that core specification, you can do anything in it. Designing, playing the game, multimedia, all of them will be done easily and without lagging problem. More than that, Microsoft is also installing many applications that will be useful for your work. For example, you can use 3D creation tool to design 3D model and such. Overall, Surface Pro can become the best choice, if you use your tablet a lot for your job or activities. The design and specification are really satisfying.
Conclusion
Those are 4 top tablets you can find on the market. Each of them has its own plus and minus point. Just choose one that you think is good for your need. And, do not forget to consider the price among those 2 Best Tablets With USB Ports.