Download HTC U11 drivers to connect the phone through USB with your computer, Windows or Mac. For a seamless connection between your new HTC U11 and y
Download HTC U11 drivers to connect the phone through USB with your computer, Windows or Mac. For a seamless connection between your new HTC U11 and your computer, USB drivers are essential. Find out how to download and install proper HTC U11 USB drivers for both Mac and Windows operating systems through the guide given ahead. Not just that, we will be giving alternative tools suggestions that work best for data management on your phone through your computer. Once these drivers are installed, your computer would be able to properly recognize the phone. This proper recognition also extends over to utilities that you might want to use on your computer for your HTC U11. As mentioned, our guide supports both Windows and Mac operating systems. You can also utilize HTC's own software to manage your phone, HTC Sync Manager. Unfortunately, the Sync Manager only supports Windows as of now.
HTC U11 drivers will be needed if you have never owned a HTC phone before. Why? Because then you would have never connected a HTC phone / tablet to your computer. The new phone comes with Android 7.1 Nougat which is then skinned with HTC's minimal Sense UI. You can always connect the phone wireless (over the network) using various tools like AirDroid, where you do not need HTC drivers. For this article, we'll look into how to get proper HTC USB drivers for the phone to communicate properly with your PC / Mac.
Once installed, these drivers will help your computer properly recognize the HTC U11 and avoid any sort of trouble when transferring data. This post will help you download and install the correct HTC U11 drivers on PC and Mac.
The link below will take you to the latest Android drivers provided by HTC for various OS platforms – Windows, Mac and Linux. The phone does come with SD card slot which you can use to expand the storage. These drivers are only for making your computer recognizing the HTC U11 (and the SD card) correctly. We have an entire section full of Android USB Drivers, but we have that covered as well for you below on how to download and install the drivers.
Download HTC U11 Drivers for Windows
The official U11 USB drivers are always bundled with HTC Sync Manager that you can download for Windows PC. You can also directly connect your HTC U11 to the computer and wait till it is recognized by the PC and MTP drivers are automatically installed by Windows. Android MTP drivers have always been included with every phone running Android 7.1.1 Nougat software and are recognizable by all versions of Windows. However, at times the installation fails and you need to install the drivers manually or using another app.
If you phone is not easily recognized by the computer and nothing happens after connecting your phone, that is when you need to download HTC Sync Manager or install HTC U11 drivers manually. For transferring media content, photos and other files from your phone, you need to have a USB-C cable (preferably the one you got in the box) for the phone.
Follow these simple steps to connect your phone with Windows PC:
Step 1 – Download USB Drivers

Step 2 – Download Sync Manager

For macOS:

and install it on your computer too. This app also includes the latest modem and MTP drivers needed for your U11 to connect with the PC.

Step 3 – Connect your HTC U11 with the computer using a USB-C cable.

Step 4 – Now wait for the computer to recognize the device and install / setup necessary files and drivers.

Step 5 – You will notice several files being installed. Once completed, open My Computer or This PC to find your phone.

Step 6 – Double-click on your phone and now you are ready to browse through your HTC U11 on the Windows PC.
You can now transfer photos, music, videos or any other files from and to your HTC U11 internal storage and the SD card (if you have inserted any) in your phone.
Download HTC U11 USB Drivers for Mac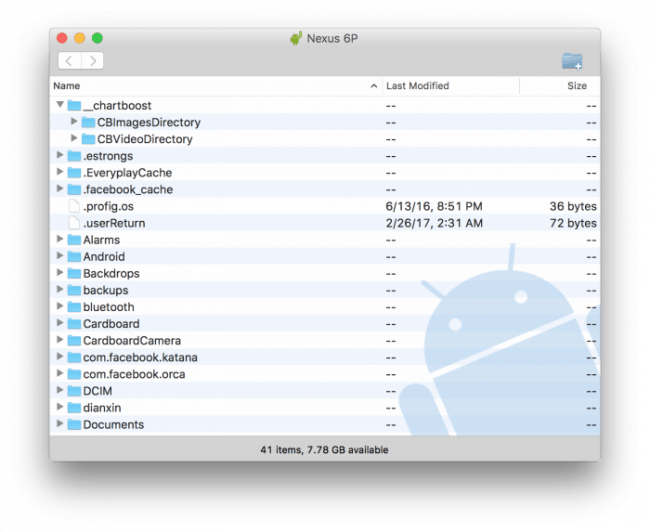 Connecting HTC U11's internal memory and SD card storage is relatively easier on Mac OS X. The entire process on Mac is as easy as plug and play for almost all Android devices. If you have been a Google Pixel or Nexus user on a Mac previously, then setting up the HTC U11 should be no different for you.
Android File Transfer is a free utility by Google to connect your Android phones (and tablets) to transfer data between the phone and the computer. Android File Transfer misses out on a number of important features and feels very outdated, but it gets the job done and is compatible with almost every Android device out there.
A few users did report some issues with Android File Transfer and some of the newly launched Android phones (i.e. Google Pixel). That has been taken care of with another free alternative on Mac called as HandShaker. We will talk about that in a bit below.
Make sure you have a HTC U11 and a USB-C cable (preferably, the one that came with the phone). Then follow these quick steps:
Step 1 – Download Android File Transfer and install it on your Mac computer.

Step 2 – Connect your HTC U11 with the computer using a USB-C cable.

Step 3 – Now wait for the computer to recognize the device. It may take a few seconds more if this is your first time connecting a new Android device.

Step 4 – Tap 'Allow' on your phone screen to allow the phone to communicate with the computer.

Step 5 – Android File Transfer window will automatically open up with your internal phone memory directories.
Alternative: Transfer HTC U11 Files to Mac with HandShaker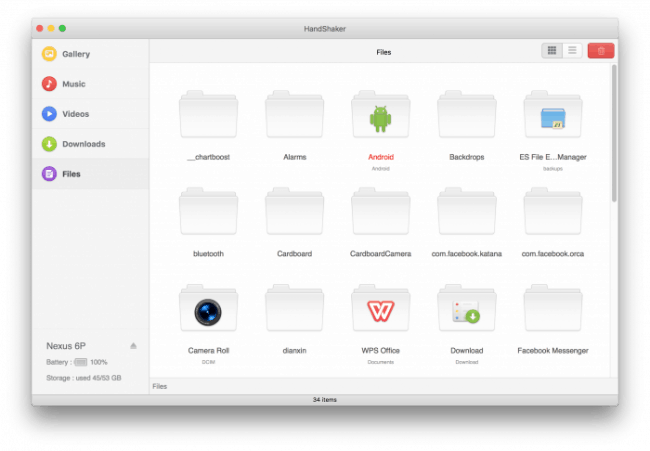 This is the beautiful alternative we mentioned earlier that you can use on Mac to transfer files from the HTC U11. HandShaker lets you work with your HTC U11 phone files on your Mac computer just like how you would do on a Windows PC. It has a beautiful UI that makes it very easy to browse through your photos, videos, downloads and all the other files in your Android phone.
How to use HandShaker? Follow the quick steps below:
That's it! Pretty easy solutions, eh? Let us know if you run into any problems and we'll try our best to sort it out.