Show WiFi password Android No ROOT:  WiFi network service is among the most used service in a device by android users. People use the wifi network at
Show WiFi password Android No ROOT:  WiFi network service is among the most used service in a device by android users. People use the wifi network at many different places like Home, Cafeteria, Gym, Hotel, etc. Now, many of us might be aware of the fact that, every time we type a password on a device it keeps it saved.
So, next time you can access that network quickly. It is a difficult task to remember all the different passwords. And sometimes when the wifi network stops working, we need to click on forgot password to fix the problem. It is an easy task to get all the passwords on Windows 10 but what if you are using an android device as the only source. Then, it can get a bit problematic for you.
How to Show WiFi password Android phone Without ROOT
Unlike Windows, you can't see all the user passwords on android device. And therefore it becomes very difficult to know the password. If you somehow remember the password, then it is great, but if you don't then, you are out of your luck.
When we talk about getting the previously used passwords on android device. Then there is no official kind of service available on android device. But nothing to worry about that, because there are many other apps and other great ways to see the WiFi passwords. So, Here we are with all desirable and effective ways to recover and use WiFi passwords on Android devices.
Here the Methods to use the service of retrieving WiFi passwords and using them to access the internet. If you do want to use the service, then do follow the steps mentioned on methods carefully.
Way 1: Display WiFi passwords A
ndroid Without ROOT
Well, most of the services are only available for rooted Android devices. And this is because many hidden features of smartphones are available only after when you have root privilege. If you use the WiFi network of your own hospitality, then you can Find a WiFi password easily. Now, one thing to remember here is that this method will only work for the device which is connected to that network. First and Foremost, the thing is that you need to check the wireless router you use. Whichever, router you are using you need to open the admin panel of that router.
Just in case, if you don't know the name of the router or it's website to change the settings. Then, in that case, what you can do is change your IP address of the Android device to either 192.168.1.1 or 192.168.0.1.
Now after that, the portal will ask you for username and the password.
So, for that, you can go with the below-given username and password. All the wireless router have a default value of username and password which is:
Username: Admin

Password: Admin
As soon as you change the IP address and go with the username and password, the settings page will open. Then you can do changes like WiFi password change, Block mac Address, and bandwidth control, etc. To see the saved WiFI password without rooting your device. Go to Wireless> wireless security.
Way 2: View WiFi passwords Using Apps On Android

There are many applications available on play store to view WiFi password. Those applications include WiFi password key, WiFi password show, and WiFi password recovery, etc. You can go for any of these applications but these all applications requires Root Access.
Although you can go with any of these applications, we will recommend you to go for "WiFi password Show." This application is available for free on the Google store. And is used for finding saved WiFi password.
In order to find the saved WiFi passwords, you need to download the application from google play store. Here the link to download it.
Download WiFi Password Show
Since it only works for the rooted devices, then you need to root your device. And After that, you can use it to see all the saved WiFi passwords under the WiFi names.
Way 3: View WiFi passwords With ES File Explorer Pro
Well talking about the methods, this one is a bit difficult as compared to other ways. Though, it is an interesting method to find the WiFi password on the Android device.
All you need to do is to Download and then install ES File Explorer.
Download ES File Explorer
After that, enable Root explorer through Tools menu. Then, it will confirm the authentication by asking the permission, allow it.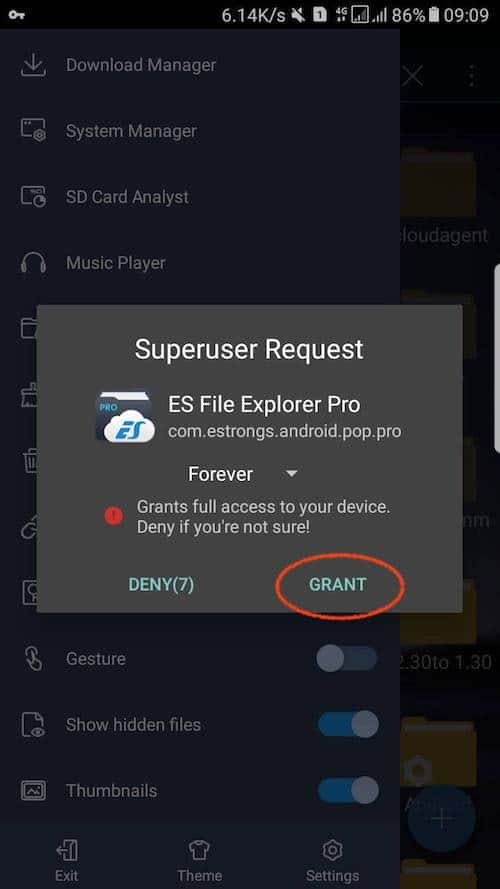 Select Local>Device. As soon as you click that a root explorer will open.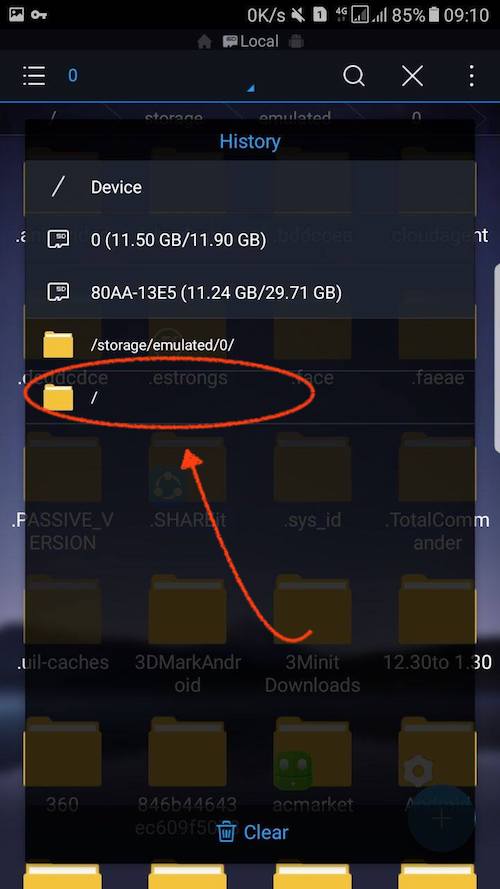 Now, after that go to data/misc/wifi folder and then you will see a file named wpa_supplicant.conf.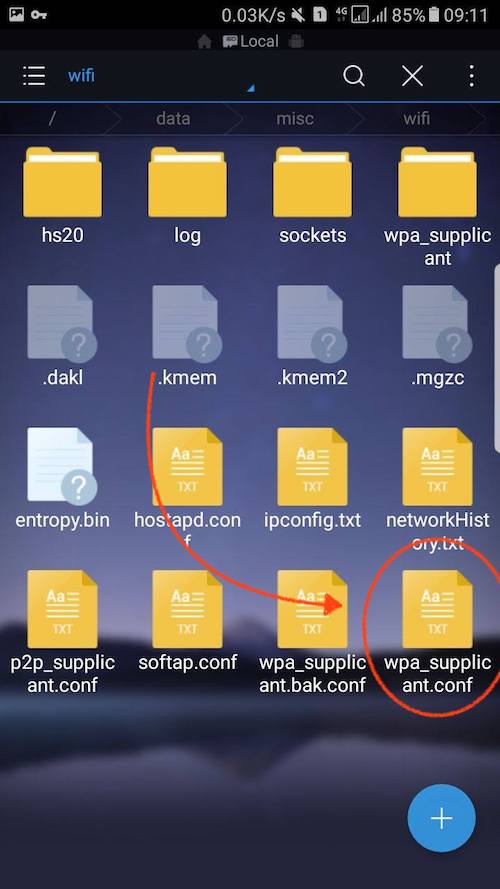 Open it by double-clicking on it and then Go for ES Note Editor. Finally, you can see the wifi password Under the network section.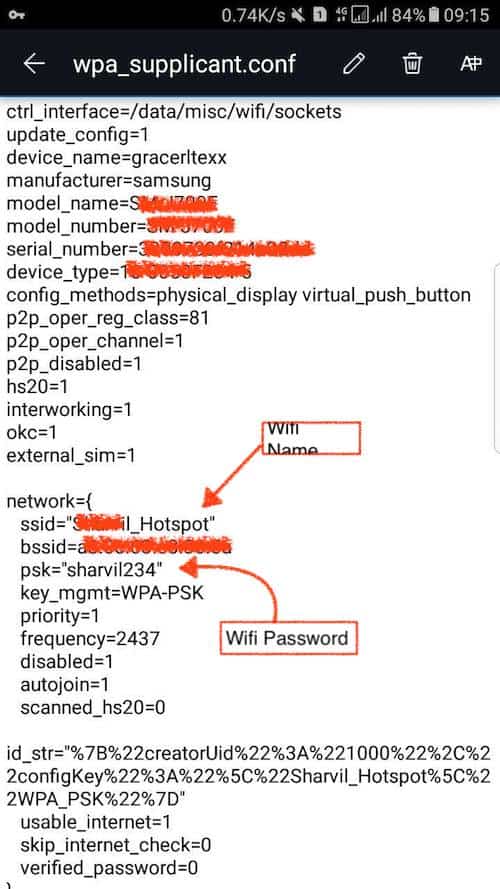 One thing to remember here is that you should not make any changes in this file. If you do change the configurations then, your device will show you the errors.
Well, This particular is not a method or application to see WiFi passwords. It is possible to see the option of Share WiFi Network option on several Android devices. MI users have said that this option comes with MIUI 8. So, if you are an MI user, then you can use it.
Go to Settings > WiFi, and you will see an option of Tap to share the password. Just click it to use.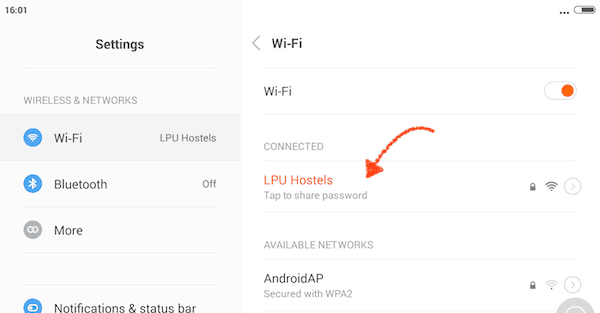 After that, what it will do is that it will generate a QR code. So open the QR code scanner in other device and scan it.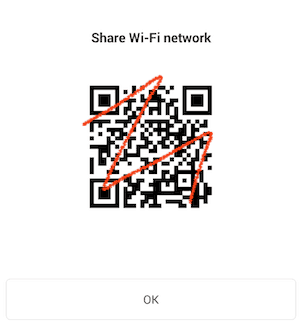 It will give you the WiFi name and password information, and that can be used. For the case, that you need to use the WiFi network from your computer then just take the snapshot. Then, send the snapshot to your Computer and then scan the QR code from your device.
So these are the Four ways of using the service of viewing the saved passwords from your device. Among these methods, two are for rooted and remaining two are for Non-Rooted devices. Well, you can use the rooted methods for this work, but rooted android devices are not suitable for general purposes. While the other methods for non-rooted devices are efficient and completely working. You should give them a try.